Brand-New £250,000 Resource Centre in Wolverhampton is Now Open
19th May 2022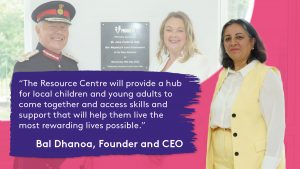 We are delighted to announce the opening of our brand-new Resource Centre, Progress House.
The brand-new state-of-the-art facility will help individuals with additional needs learn new skills, gain employment, access therapies, participate in activities and make new friends.
Set to benefit hundreds of Black Country families, the £250,000 multipurpose space is a result of 12 months of development. It boasts a fully equipped kitchen, sensory room, computer/quiet rooms and an open plan space to host group activities.
At Progress, we are committed to preventing family breakdowns, increasing resilience and reducing dependency. The Resource Centre helps us achieve this by blending a range of community-based services to support semi-independent and independent living.
The inspirational new site was officially opened by Mr John Crabtree OBE, Her Majesty's Lord-Lieutenant of The West Midlands, accompanied by our founder and CEO Bal Dhanoa, Managing Director Claire Rogers and the rest of the Progress Team.
John Crabtree OBE said: "I had the great pleasure to be invited to open the Resource Centre and to learn about the forward-thinking and creative ideas being presented by Progress.
"The organisation has created a range of services which will be delivered and coordinated from this new facility. It will provide early intervention, learning and education, preventative support, and solutions to avoid or reduce crisis situations that come at a high cost to all involved. I wish Progress every success in its latest venture."
Bal, our Founder and CEO said:
"Covid-19 has definitely had an impact on how care and specialist services have been delivered, and as we head back to a more normal life, we want to make sure we have the facilities and the people in place to help families in the Black Country,"
"The Resource Centre will provide a hub for local children and young adults to come together and access skills and support that will help them live the most rewarding lives possible."
"We have a big focus on giving people the right to live independently, and our new Resource Centre will further support this objective," added Claire Rogers, Managing Director.
For further information, please visit www.progresscare.co.uk.