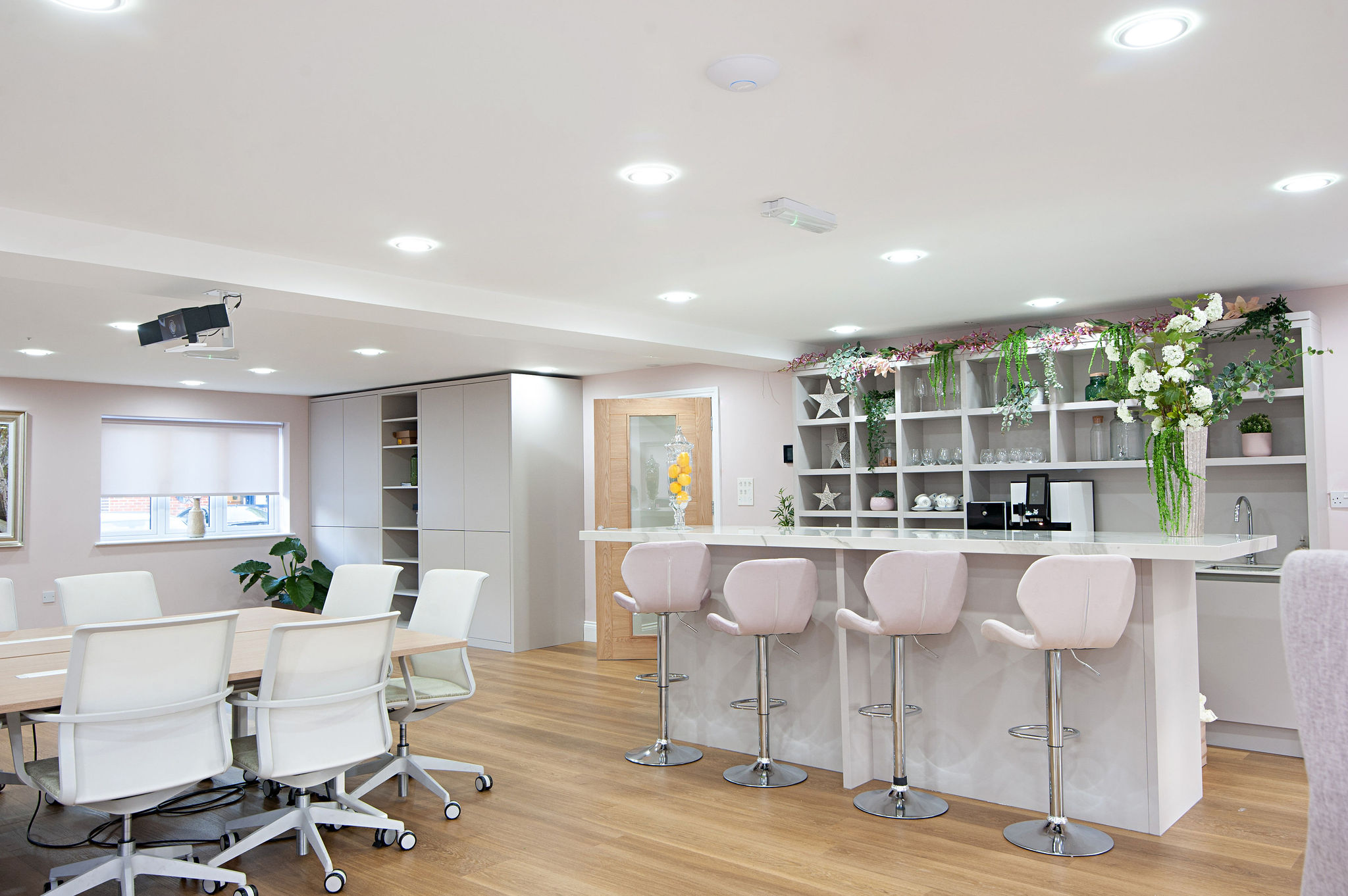 With years of experience both at Progress and in the wider Care Industry they really are an interesting bunch. If you would like to know more about our team you can get in touch with us here.
Bal Dhanoa
Chief Executive Officer
Bal is the heart of Progress Care Solutions as the CEO and Founder. She has dedicated 35 years to working within Health and Social Care, managing front-line services for Local Authorities and both the Voluntary and Private sectors. Her exceptional entrepreneurial career has helped shape standards of care.
Sparked by treatment towards a family member, she has achieved outstanding outcomes for the most vulnerable within communities, creating Progress; an industry leader in the Midlands.
Having passed day-to-day operations over to MD Claire, Bal's responsibilities now lie in overseeing investments, project management and delivery of new services. She is passionate about researching and investing in cutting edge technologies that transform the quality of lives of vulnerable young people. She has a crystal clear vision of where she would like to take Progress and she leads her management team to ensure this happens to the best of their abilities.
As a family woman, outside of running the business, Bal enjoys spending time with her children and grandchildren. She is an avid gardener who loves to explore the world when she can, trying new delicious delicacies on the way.
Raj Dhanoa
Chief Financial Officer
After establishing Progress in June 2000 with Bal, Rajinder handled Finance, Payroll and HR. Thanks to having a competent team in place and excellent growth, Raj has been able to step back from operational work. He now sits on the Progress board and focuses on project management of the new properties. He handles all aspects of development pre-completion. As well as asset management, he manages the overall company finance and legal compliance.
Since a young boy, Rajinder has loved playing percussion music everywhere he could; on doors, the school desk and even on metal dustbins. He had the opportunity to join a band with some older locals and was able to travel; playing at a variety of locations, from temples in the Midlands to cultural shows all over the world. Meeting his old band mates is his favourite way to let off steam.
Claire Rogers
Managing Director
Claire's career began as a trainer in the fitness industry before going on to compete as a bodybuilder. After a painful back injury, Claire moved into various retail management roles. Feeling unsatisfied, she took a career leap into care and started working at a school for children with special needs. She found the industry to be the right fit for her; somewhere she could make a difference.
In 2002 Claire applied for a Senior Support Worker role at Progress and quickly progressed to Deputy Manager. After helping set up the second residential home, she became Registered Manager over two services. Having progressed throughout the company and then grown into Interim MD role, Claire became Managing Director in 2015; leading day-to-day operations and helping shape Progress into the business it is today.
Her responsibilities include upholding the values of the company; care, trust, respect and progress. Claire ensures Progress as an organisation doesn't drift from its original purpose; to never compromise on the quality of care and always be a listening and evolving business.
Claire is very family orientated. She has two large dogs which she enjoys walking with her husband and her little girl. As a family, they enjoy pulse-raising experiences on holidays, such as riding a zip wire or braving a hot air balloon.
Phil Owen
Head of Safeguarding and Agency Decision Maker
A registered social worker with a lifetime of experience working alongside individuals with disabilities, mental health and complex care needs, Phil has held posts at a senior level in both Local Authorities and the private sector. He is passionate about the rights of young people who are vulnerable or have additional needs and is equally as passionate about the high aspirations Progress has for them.
Phil joined the Progress team in 2013 and as Head of Operations, led with complete dedication to quality, compliance, safeguarding, exemplary service delivery and high outcomes for young people. Now part-time, Phil retains overall safeguarding responsibility for the organisation and is the Agency Decision Maker for our fostering service.
Outside of work, Phil, who is married with a daughter, is a huge rugby fan. When not at his old rugby club supporting the team, he enjoys gardening and walking with his wife and dog. Phil is incredibly musically gifted with an eclectic taste; he plays the piano, double bass, drums, and the church organ.
Angeline Freer
Head of Corporate and Commercial Services
Angeline's business career spans over 30 years across the financial services, education, health and social care sectors. This has included every size and stage of organisation, from start-up (including her own) right through to global corporations.
Angeline moved into the social care sector in 2011 and was then thrilled to take the opportunity to join Progress in 2015, leading on business development, marketing, contracts and capacity building. She is now delighted to be leading the broader corporate and commercial teams in their support of our operational colleagues and therefore the young people we support, in addition to exploring new, creative models for business sustainability.
During her recent MBA with the University of Leicester, Angeline completed a dissertation in the recruitment of foster carers, implementing the resulting strategy. Her other professional qualifications include CIPD Training Practice, Prince2 Project Management, Change Management and CMI Level 7 Strategic Management and Leadership.
Outside of work, Angeline likes to focus as much time as she can on her daughter who is off to University .
Tina Bhardwaj
Head of Children's Services
With over a decade's worth of fostering experience, Tina is the Fostering Manager here at Progress. Her overall responsibilities are to ensure the smooth running of the Fostering service. By providing her team ongoing training and support, she enables them to operate to the best of their abilities. Her hard work ensures children and young people are kept safe within their foster placements. She does this by being an integral part of the entire process. She monitors the inbound referrals of children and matches them to suitable Foster Carers, as well as collaborating with the Business Development Team to recruit the right people.
To wind down, Tina enjoys cooking, going to the theatre and working out at the gym. She loves experiencing new cultures, making an effort to travel when she can.
Phil Mcdonald
Head of Adult Services
Phil started out in his working life as a tax man. Unfulfilled, on the recommendation of his sister already working within care, he took a leap of faith to do the same and never looked back. He began in children's services working alongside young people with autism and behavioural support needs. Wanting to make more of a difference, he took a progressive step towards a senior role and transitioned into adult services.
Phil joined Progress, initially as a Senior Residential Support Worker within Oak Cottage before moving into his first managerial role at Regis House. This exposure to the fast-paced and varied short breaks care model further caught Phil's passion, and he took on the development of the Hub Services in the Service Development Manager role. More recently, Phil has moved into the role of Operations Manager – Adult Services, bringing with him the ethos of helping the people we support to achieve their life choices and independence.
Outside of work, Phil has three children and enjoys spending time with them.  He is a self-confessed 'nerd' and enjoys reading, movies, gadgets and football. Phil is a child at heart and can often be found playing at home with his kids, building Lego, or enjoying a relaxing break in Wales to get away with his family. Days on the beach and walks by the river are his favourite.
Harjinder Deo
Finance Manager
After completing a Management Degree covering aspects of IT, Finance and HR, Harjinder, who likes to be known as Harry, decided to pursue a Finance career. Setting his eye on working for a big corporate company, he was fortunate in securing a role at Barclays Bank. After ten years in banking, he spent four years in insurance before he and his family decided to relocate above the M25 corridor to Wolverhampton. It was then in 2012 that Progress came onto his radar.
Harry took a step away from the corporate world where he was just another number, transferring his knowledge and experience to an organisation he could grow with and develop as an individual. As Finance Manager, Harry is responsible for money in and out of the organisation.
As a dad of two very active boys, Harry finds himself spending a lot of time bouncing between various clubs and activities, as well as being an avid football supporter himself. He is a dedicated Liverpool fan who likes to try and make the games when he can.
Dean Fathers DL
Board Chair
Dean started his career in logistics with Pioneer, TNT and BMW, before becoming a serial entrepreneur and developing an international business base. He has served as Chair of five NHS organisations and Professor at four Business Schools. With a strong interest in leadership, workforce resilience and digitisation, Dean has held roles on ancillary NHS bodies such as the NHS Confederation's Mental Health Network, NHS Providers and the NHS Leadership Academy, supporting numerous national and regional NHS initiatives.
Dean is currently Chair of the Lincoln International Institute for Rural Healthcare and the Centre for Organisational Resilience at the University of Lincoln, and a Board member of the Parliamentary and Health Services Ombudsman and the Greater Lincolnshire Local Enterprise Partnership (where he is also Chair of the Health and Care Enterprise strategic advisory board). Dean is also a lay member of the Academy of Health and Care Science's Regulatory Board, is Chair of Medilink's digital health special interest group and a member of the Midlands Engine Health Board. He further holds non-executive roles with Axis Electronics and NeedleSmart.
Dean was delighted to join Progress' Board at the end of 2021 and as Chair, works with the Board to ensure the company remains well led, strategically aligned, appropriately resourced, progressive, safe, effective, values based and most importantly, caring.
When he isn't working, Dean likes to spend time with his family and especially his grandchildren, working in the garden, and going to watch live rugby. Also, as a member of the Reserve Forces and Cadets Association Board, Dean likes to supports young people through the Cadet Forces, and Veterans, as a Trustee of the Care After Combat charity.
David Oldham
Non-Executive Director
David started his career in the social care sector in the mid-1980s, with young people in a residential setting, and quickly got stuck into studying community and youth work. His interest and study progressed into social work and five years later, after qualifying as a social worker, he joined Solihull Council in their adoption and fostering team. He later moved to Birmingham City Council to work in a respite and fostering service for disabled children and young people and over the next eight years, took on the roles of Social Worker, Team Manager and eventually Head of Operations; Adoption and Fostering. A move to Foster Care Associates as Regional Director, later led to David becoming Chief Executive in 2007. David moved to a Non-Executive Board Director position before leaving FCA.
David joined Progress as Non-Executive Board Director in January 2020, bringing his wealth of strategic and operational experience of the sector, which enables him to provide constructive challenge and an independent eye.
David has always been a keen footballer and when he reduced his working hours, he took up over 50's walking football, until serious injury meant he had to hang up his boots. The most energetic David gets these days is attending Tai Chi classes and countryside walks, although he still gets his football fix with his Coventry City Season Ticket.
Mike Butler
Non-Executive Director
Mike started his career in South Africa, continuing in the UK with Deloitte in audit, then management consultancy. He left Deloitte to take up a Finance Director position with the NHS, before taking on senior director roles in the private sector, providing business process out-sourcing and consultancy services into the public sector.
Mike is currently Managing Director of Peopletoo, who deliver strategic and operational transformation across local government and the NHS, including Children's Services, Adult Social Care and Integrated Care. Mike has wider expertise in finance, digital technology, property services and commercial procurement, as well as a wealth of experience in growing start-up and established SMEs. Mike is also a Trustee at Newport Live, a leisure and cultural Charitable Trust that also does community outreach sports development programmes for children and young adults. Mike is Chair of the Strategy Committee for the Trust.
Mike joined Progress towards the end of 2021 as a Non-executive Director and brings substantial commercial experience of local government and the private sector, to support the Board and senior management team in developing and delivering on our strategic ambitions.
For relaxation, Mike follows all sport, particularly cricket and rugby, and enjoys cooking and holidaying in South Africa.