We are recruiting
20th October 2022
We are recruiting Support Workers to work DAYS or NIGHTS across a number of services and locations!
Are you looking for a company who really do give THE BEST care to the wonderful young people in their care?
Are you looking for just Days, just Nights, Fixed Nights, or even Weekends only?
We will recruit Full or Part time hours!
Are you a community support worker who would prefer a fixed place of work?
Are you new to care but have the right transferable skills and want a chance to shine?
If you want to 'Make A Difference' to other people's lives then Progress could be perfect for you!
Competitive rates of pay
Free DBS
An additional benefits package with a wide range of options to benefit you and your family
Ongoing training and development opportunities to enhance your career
Fixed rota's so you can plan your free time weeks in advance
Great career opportunities
WANT TO BE PART OF OUR AMAZING TEAM?
If interested, please email recruitment@progresscare.co.uk or call us on 01902 561066  for more information!
COME AND MEET US AT OUR RECRUITMENT DAY!
We are holding a number of recruitment days over the next couple of months, where there will be a chance to meet the team and find out more about the rewarding work we do!
Below you can see our current dates for the Recruitment Days and also find out more information by clicking on the events below: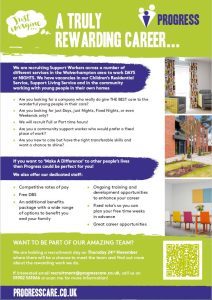 Wolverhampton Recruitment Day Flyer:
Thursday 24th November 2022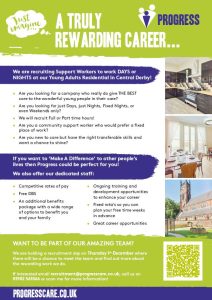 Derby Recruitment Day Flyer:
Thursday 1st December 2022