Working for Progress: Roma and Vicky's story
6th March 2019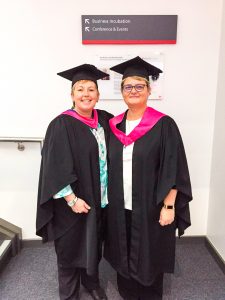 The memories of a day at Reading Festival still stay with Roma and hold a special place in her heart.  She had taken a teenager from Wellcroft House to the festival, and Roma could see the joy on her face as the young girl got out of her wheelchair and danced. 'It was brilliant,' she says. 'She now goes every year.'
Wellcroft House provides residential services for young adults with learning disabilities and Roma Cantello has been a manager since 2015. She started there as a chef- she had studied catering at college and worked as a chef for 17 years.
Within months of arriving at Wellcroft House in 2009, she started getting involved with young people and going out on activities with them.
She gave up her job in the kitchen to become a support worker and she hasn't looked back since. She went on to become a senior support worker, then deputy manager and finally the manager. 'If it hadn't been for Progress giving me that push I wouldn't be where I am now. They always believed in me,' she says. 'I never thought in a million years that I would be where I am.'
At her side is Deputy Manager Vicky Turton. Vicky started at Wellcroft House as a support worker in 2010.
'I think we work great as a team and we give the best we can,' says Roma.
Roma and Vicky have received training while they have been with Progress. Both have Level 3 NVQ in Health and Social Care. And in 2018 they both stepped proudly onto the stage in their caps and gowns at their graduation after gaining a Level 5 diploma in care leadership and management for health and social care.
'It was out of this world,' says Vicky who was 48 when she graduated. 'I have done more with this company than I have ever dreamed. I never thought at my age I would get anything like that.'
Vicky says she is passionate about her job. ''If you don't care then it's not a job you can come into,' she says.
Wellcroft House in Wednesbury focuses on enabling greater independence for those with moderate to severe learning difficulties and complex disabilities.
'I'm passionate about the young people getting what they need,' says Vicky. 'We are striving for their independence as much as we can. We are here to teach them new skills and get as much potential out of them as we can.'
She is also passionate about leading a good team.
Occasionally Roma still helps out with the cooking at Wellcroft House when she is needed. As well as running the home and supervising the staff she takes the young people out for activities.
She has built a special bond with them and Wellcroft House feels like her second home.
'I just love what we do for our young people, I really do.' she says.
'We give them new experiences all the time.'
If you too would like to develop your skills and build a career in social care, please click here to apply for one of our roles today.