Celebrating Black History Month 
While Black History Month began in the United States of America in the 1920s, it was first celebrated in the UK in 1987, the 150th anniversary of the abolition of slavery in the Caribbean, and happens every October. 
As we commemorate Black History Month, it is essential to recognise and celebrate the incredible individuals who have made a profound impact on the lives of others. Claudia, a foster carer with Progress, is one such remarkable individual whose journey into foster caring has not only transformed the lives of countless children but also shattered preconceived notions about who can be a foster parent. 
Claudia's journey into foster care began with her profound love for children. From a young age, she was the go-to person for her cousins and their children, and children always seemed to gravitate toward her. In her own words, she shares, "I love kids. Ever since I was young, all my cousins would always bring their kids over, and the kids always basically love me and they just stick to me." 
However, her official journey as a foster carer began while she was working as the Deputy Manager for a residential home catering to individuals with learning disabilities and mental health challenges. Claudia recalls this pivotal moment: "My journey started when I was a manager, Deputy Manager for a residential home for people with learning disability and challenges with mental health. I worked there for 11 years." 
During her tenure at the residential home, Claudia encountered two young ladies who were struggling with severe self-harm and emotional issues. They made a heartfelt plea to Claudia, suggesting she adopt them or provide them with a nurturing home. Claudia shares their request, saying, "One of them said to me, 'Why don't you adopt me? I don't have a place to live.' And it resonated with me."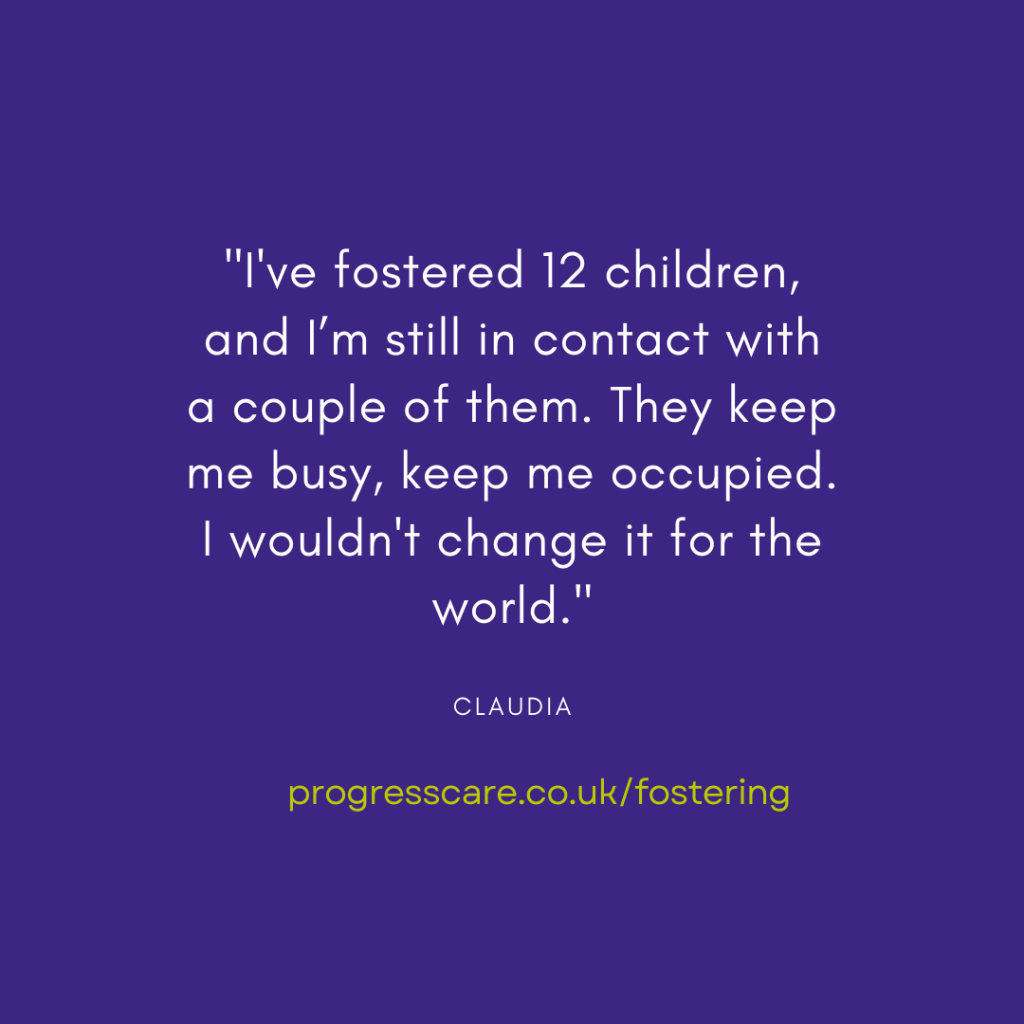 Claudia's next step toward foster care began when her daughter left for university, leaving her with a three-bedroom house. Claudia's response to this newfound space and her love for children was straightforward: "I was online looking for jobs, and I saw a pop-up about fostering. I just put in a message to say, 'Can you tell me more about this? I always have kids. I'm a mother, I would say I am a carer, a giver and I've been working in care settings for kids or teens." 
Over the years, Claudia has cared for numerous children, many of whom have stayed in contact with her and seek her guidance and support. In her own words, she acknowledges the lasting impact of her work: "I've got 12 of them, still in contact with a couple of them. They keep me busy, keep me occupied. I wouldn't change it. I wouldn't change it for the world." 
When asked about her remarkable success as a foster carer, Claudia humbly attributes it to her upbringing and values. She cites her mother as a significant influence: "My mom has always taken in relatives' children and looked after them. And even after we left, she was still having kids at the house. Maybe that's something because I've grown up in that sort of environment." 
Claudia's dedication to fostering is even more impressive when considering her academic pursuits. She managed to complete her studies, obtaining a degree in psychology while working two days a week at a university. In her own words, Claudia explains her drive: "I like to stay busy because once your mind is busy, you're learning, and I think you're never too old to learn." 
Claudia's journey as a foster carer is a testament to the power of a single individual's dedication and love to make a difference in the lives of children in need.  
As we celebrate Black History Month, her story serves as an inspiration to challenge stereotypes, embrace diversity, and open our hearts and homes to those who need it most. Claudia has not only given countless children a better future but has also enriched our collective history with her remarkable journey as a single Black foster carer.
Inquire about foster caring today, click here.